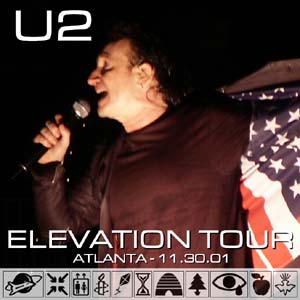 ATLANTA

Disc 1:
     1. PA intros
     2. Elevation
     3. Beautiful Day
     4. Until the End of the World
     5. New Year's Day
     6. Out Of Control
     7. Sunday Bloody Sunday
     8. Stuck In A Moment You Can't Get Out Of
     9. Kite
    10. My Sweet Lord
    11. Angel Of Harlem
    12. People Get Ready

Disc 2:
     1. Please
     2. Bad
     3. Who's Gonna Ride Your Wild Horses
     4. Where the Streets Have No Name
     5. I Still Haven't Found What I'm Looking For
     6. Pride (In the Name of Love)
     7. Bullet the Blue Sky 
     8. What's Going On
     9. New York
    10. One
    11. Peace On Earth
    12. Walk On 

Source: 
     November 30, 2001. Atlanta, Georgia. Philips Arena.

Sound Quality: 
     Very good audience.

Source:
     Core Sound Stealth Cardioid mics with low sensitivity option > SONY MZ-R700

Transfer:
     MD master > Sony MDS-JB940 > Toslink Digital Optical Cable > Sony RCD/W1 >
     CD-R master > EAC (Secure and tested) > WAV > Soundforge 5.0 > mkw 0.96f > SHN

Comments:
     The show was plagued by sporadic drop outs in the PA rig on The Edge's side of
     the stage throughout the concert.  As a result, you hear an occasional change in
     the ambience of the recording as a result of loss in the high-end frequencies.
     However, this doesn't significantly detract from the recording.