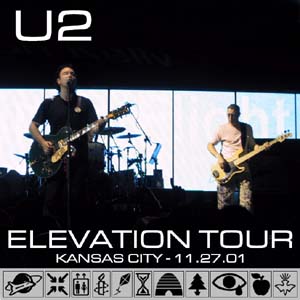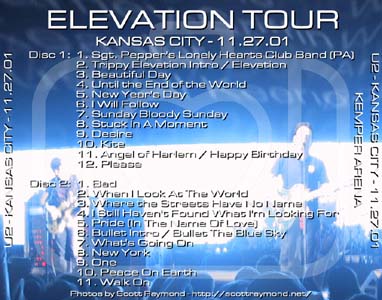 KANSAS CITY

Disc 1:
     1. Sgt. Pepper's Lonely Hearts Club Band (PA) 
     2. Trippy Elevation Intro / Elevation 
     3. Beautiful Day 
     4. Until The End Of The World 
     5. New Year's Day 
     6. I Will Follow 
     7. Sunday Bloody Sunday 
     8. Stuck In A Moment
     9. Desire 
    10. Kite 
    11. Angel Of Harlem / Happy Birthday 
    12. Please 

Disc 2: 
     1. Bad 
     2. When I Look At The World 
     3. Where the Streets Have No Name 
     4. I Still Haven't Found What I'm Looking For 
     5. Pride (In The Name Of Love)
     6. Bullet The Blue Sky Intro / Bullet the Blue Sky 
     7. What's Going On 
     8. New York
     9. One 
    10. Peace On Earth 
    11. Walk On 

Source: 
     November 27, 2001. Kansas City, Missouri. Kemper Arena.

Sound Quality: 
     Very good audience.

Source:
     Core Sound Binaural mics > D100 > DAT master > optical cable >
     HK stand alone > CDRW > EAC > normalized levels

Comments:
     This is a very solid recording, featuring excellent sound quality
     and clarity.  There is a bit of distortion during "Elevation", but
     the taper adjusted his recording levels at that point and got
     everything straightened out.  Nonetheless, the bass levels remain
     very high throughout.  Audience noise is minimal.