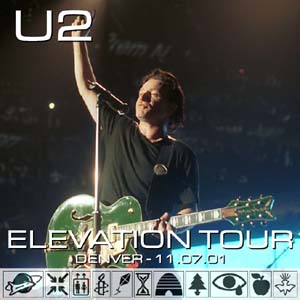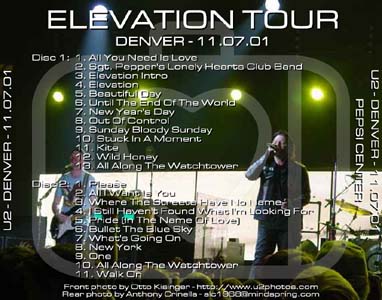 DENVER

Disc 1:
     1. All You Need Is Love
     2. Sgt. Pepper's Lonely Hearts Club Band
     3. Elevation Intro
     4. Elevation
     5. Beautiful Day
     6. Until The End Of The World
     7. New Year's Day
     8. Out Of Control
     9. Sunday Bloody Sunday
    10. Stuck In A Moment
    11. Kite
    12. Wild Honey
    13. All Along The Watchtower

Disc 2:
     1. Please
     2. All I Want Is You
     3. Where The Streets Have No Name
     4. I Still Haven't Found What I'm Looking For
     5. Pride (In The Name Of Love)
     6. Bullet The Blue Sky
     7. What's Going On
     8. New York
     9. One
    10. All Along The Watchtower
    11. Walk On

Source: 
     November 7, 2001. Denver, Colorado. Pepsi Center.

Sound Quality: 
     Very good audience.

Comments:
     This show is recorded from MP3 and there are gaps between
     tracks. This is currently the only known recording of this
     show and that is the only reason I list it here.