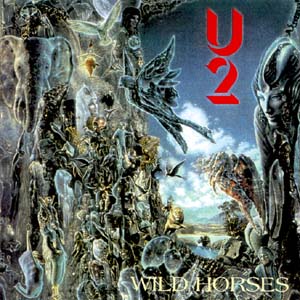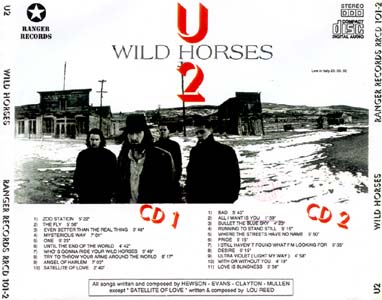 WILD HORSES 
Manufacturer: Ranger Records
Catalog: RRCD 101-2
Matrix: Disc 1: RRCD 101-2/1 PHC
        Disc 2: RRCD 101-2/2 PHC
Barcode: Unknown
Disc 1: (53:56)
Disc 2: (54:44)
From: Patrice (Ino@Crit2.univ-montp2.fr)

Disc 1:
     1. Zoo Station
     2. The Fly
     3. Even Better Than The Real Thing
     4. Mysterious Ways
     5. One
     6. Until The End Of The World
     7. Who's Gonna Ride Your Wild Horses
     8. Trying To Throw Your Arms Around The World
     9. Angel Of Harlem / When Love Comes To Town
    10. Satellite Of Love

Disc 2:
     1. Bad
     2. So Cruel
     3. Bullet The Blue Sky
     4. Running To Stand Still
     5. Where The Streets Have No Name
     6. Pride (In The Name Of Love)
     7. I Still Haven't Found What I'm Looking For
     8. Desire
     9. Ultraviolet (Light My Way)
    10. With Or Without You
    11. Love Is Blindness

Source:
     May 22, 1992.  Milan, Italy.  Forum Di Assago.  There's a date error on
     the back cover, it's not 20th, but 22nd. 

Sound Quality:
     Excellent ! It's really a very good recording (soundboard?) with a good
     capture from the audience noise.

Comments:
     This is complete show.  This is one of my favorite ZOO TV bootlegs!  The
     participation of the audience is really great (they sing louder than The
     Edge on the chorus to "The Fly"!), and the band made a good performance.
     I really recommend this CD.  The front cover is not very nice, but you
     can find a school photo from 1978 in the book and recognize the young
     Bono and The Edge (I don't know where Adam and Larry are).  Mistakes
     on the titles in the CD include the following: "When Love Comes To Town"
     is not listed (nor is it indexed) and "So cruel" is listed as being "All
     I Want Is You".
     This is the original pressing on this label.