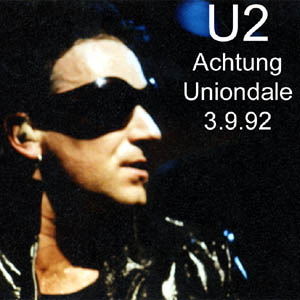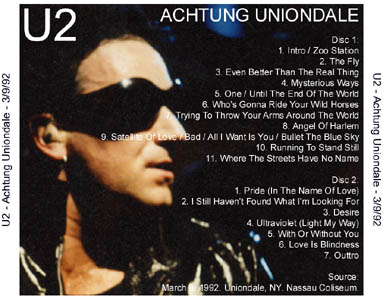 ACHTUNG UNIONDALE

Disc 1:
     1. Intro / Zoo Station
     2. The Fly
     3. Even Better Than The Real Thing
     4. Mysterious Ways
     5. One / Until The End Of The World
     6. Who's Gonna Ride Your Wild Horses
     7. Trying To Throw Your Arms Around The World
     8. Angel Of Harlem
     9. Satellite Of Love / Bad / All I Want Is You / Bullet The Blue Sky
    10. Running To Stand Still
    11. Where The Streets Have No Name

Disc 2:
     1. Pride (In The Name Of Love)
     2. I Still Haven't Found What I'm Looking For
     3. Desire
     4. Ultraviolet (Light My Way)
     5. With Or Without You
     6. Love Is Blindness
     7. Outtro

Source:
     March 9, 1992. Uniondale, NY. Nassau Coliseum.

Sound Quality:
     Very good / good audience.

Comments:
     As you can see, disc 1 is tracked very badly.  Luckily, it doesn't
     take away from listening to the disc.  There are a couple bad edits
     between songs and the sound quality seems to vary through the recording.