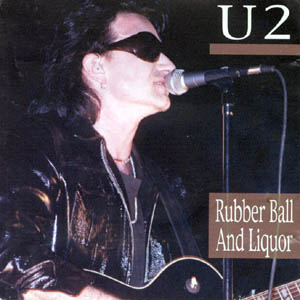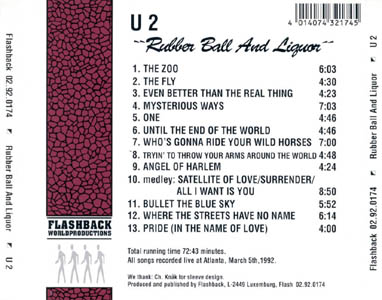 RUBBER BALL AND LIQUOR
Manufacturer: Flashback Worldproductions
Catalog: Flashback 02.92.0174
Matrix: WIZARD A 4169
Barcode: 4 014074 321745
(72:43)
From: Makoto Ishii (mishii@phoenix.Princeton.EDU)

     1. Zoo Station [6:03]
     2. The Fly [4:30]
     3. Even Better Than The Real Thing [4:23]
     4. Mysterious Ways [7:03]
     5. One [4:46]
     6. Until The End Of The World [4:46]
     7. Who's Gonna Ride Your Wild Horses [7:00]
     8. Trin' To Throw Your Arms Around The World [4:48]
     9. Angel Of Harlem [4:24]
    10. Satellite Of Love / Bad (includes All I Want Is You) [8:50]
    11. Bullet The Blue Sky [5:52]
    12. Where The Streets Have No Name [6:14]
    13. Pride (In The Name Of Love) [4:00]

Source:
     March 5, 1992.  Atlanta, GA.  The Omni. 

Sound Quality:
     Very good audience.  There is a noticeable echo throughout this CD; 
     however, it does not seriously detract from Bono's strong performance.

Comments:
     This is a nice single CD containing most of the concert.  In my opinion,
     Bono puts on a strong performance, but as noted above a noticeable echo
     does exist on the CD.  Crowd noise is pretty low throughout the CD.  Of
     perhaps special note is that "Angel Of Harlem" is completely acoustic.
     The track listing on the back of the CD is inaccurate.  It lists 
     "Surrender" instead of "Bad" and "The Zoo" instead of "Zoo Station."
     This is the original pressing on this label.