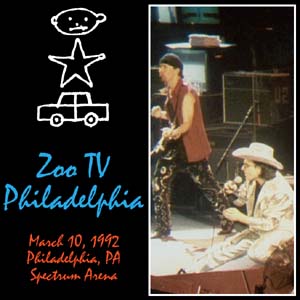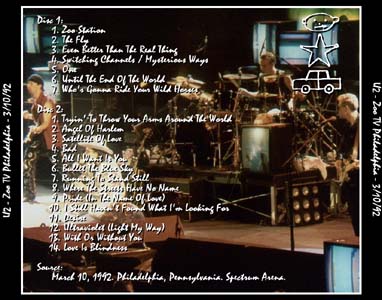 ZOO TV PHILADELPHIA

Disc 1:
     1. Zoo Station
     2. The Fly
     3. Even Better Than The Real Thing
     4. Switching Channels / Mysterious Ways
     5. One
     6. Until The End Of The World
     7. Who's Gonna Ride Your Wild Horses

Disc 2:
     1. Tryin' To Throw Your Arms Around The World
     2. Angel Of Harlem
     3. Satellite Of Love
     4. Bad
     5. All I Want Is You
     6. Bullet The Blue Sky
     7. Running To Stand Still
     8. Where The Streets Have No Name
     9. Pride (In The Name Of Love)
    10. I Still Haven't Found What I'm Looking For
    11. Desire
    12. Ultraviolet (Light My Way)
    13. With Or Without You
    14. Love Is Blindness

Source:
     March 10, 1992. Philadelphia, Pennsylvania. Spectrum Arena.

Sound Quality:
     Good audience.

Comments:
     Tryin' To Throw is a little warped, like the tape may have been damaged.