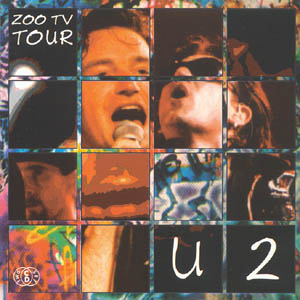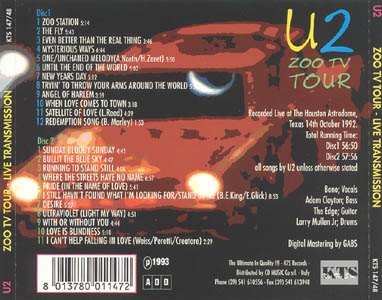 ZOO TV TOUR LIVE TRANSMISSION 
Manufacturer: Kiss The Stone Records
Catalog: KTS 147/48
Matrix: Disc 1: WIZARD KTS 147
        Disc 2: WIZARD KTS 148
Barcode: Disc 1: 8 013780 011472
          Disc 2: 8 013780 011489 
Disc 1: (56:50)
Disc 2: (57:56)

Disc 1:
     1. Zoo Station
     2. The Fly
     3. Even Better Than The Real Thing
     4. Mysterious Ways
     5. One / Unchained Melody
     6. Until The End Of The World
     7. New Year's Day
     8. Tryin` To Throw Your Arms Around The World
     9. Angel of Harlem
    10. When Love Comes To Town
    11. Satellite Of Love
    12. Redemption Song

Disc 2:
     1. Sunday Bloody Sunday
     2. Bullet The Blue Sky
     3. Running To Stand Still
     4. Where The Streets Have No Name
     5. Pride (In The Name Of Love)
     6. I Still Haven`t Found What I'm Looking For
     7. Stand By Me
     8. Desire
     9. Ultraviolet (Light My Way)
    10. With Or Without You
    11. Love Is Blindness
    12. Can`t Help Falling In Love

Source:  
     October 14, 1992.  Houston, TX.  Houston Astrodome.

Sound Quality:  
     Excellent audience.  The crowd is a bit on the noisy side, but the
     overall sound is very crisp

Comments:  
     Overall, it's overall a great show, Redemption Song (B. Marley) is a 
     nice treat that I hadn't heard them play before.  There are no technical
     difficulties, nor is the sound really ever soft.  The only thing that
     might be thought of as a problem is the fact that the audience is noisy.
     During "Angel Of Harlem", Bono starts off with The Beatles' "Hello,
     Good-bye", and he also adds another verse of lyrics.  The phone call is
     to George Bush, and Bono makes an amusing comment about him not being
     able to talk to the people of his home state.  Bono messes up the lyrics
     in "Mysterious Ways" and acknowledges it to himself, "I fucked that
     up!".  "Zoo Station" opens with a little of the "George Bush Rap".
     This is the original pressing on this label.