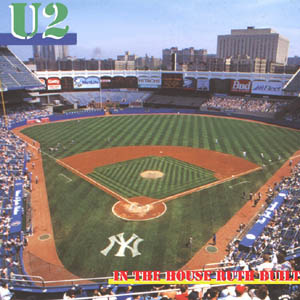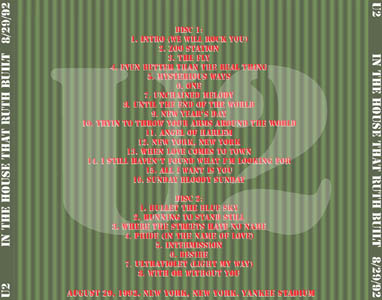 IN THE HOUSE THAT RUTH BUILT

Disc 1:
     1. Intro (We Will Rock You)
     2. Zoo Station
     3. The Fly
     4. Even Better Than The Real Thing
     5. Mysterious Ways
     6. One
     7. Unchained Melody
     8. Until The End Of The World
     9. New Year's Day
    10. Tryin To Throw Your Arms Around The World
    11. Angel Of Harlem
    12. New York, New York
    13. When Love Comes To Town
    14. I Still Haven't Found What I'm Looking For
    15. All I Want Is You
    16. Sunday Bloody Sunday

Disc 2:
     1. Bullet The Blue Sky
     2. Running To Stand Still
     3. Where The Streets Have No Name
     4. Pride (In The Name Of Love)
     5. Intermission
     6. Desire
     7. Ultraviolet (Light My Way)
     8. With Or Without You

Source:
     August 29, 1992. New York, New York. Yankee Stadium

Sound Quality:
     Good audience.  Almost a complete show.  With or Without You is cut off
     after about 4 minutes.

Comments:
     Transferred from vinyl.