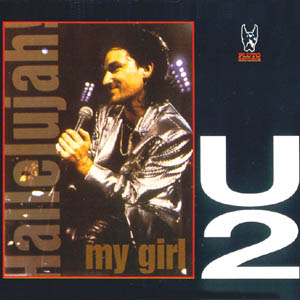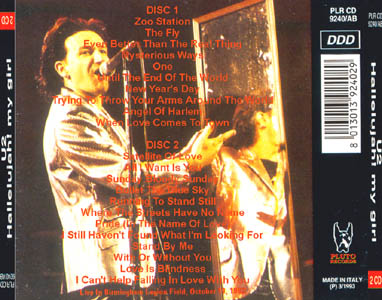 HALLELUJAH MY GIRL
Manufacturer: Pluto Records
Catalog: PLR CD 9240/AB
Matrix: Disc 1: PLRCD 9240A 19052 01 **********
        Disc 2: PLRCD-92408 19053 01 **********        
Barcode: Unknown
Disc 1: (52:38)
Disc 2: (55:57)

Disc 1:
     1. Zoo Station
     2. The Fly
     3. Even Better Than The Real Thing
     4. Mysterious Ways
     5. One / My Girl
     6. Until The End Of The World
     7. New Year`s Day / Whiskey In The  Jar (Larry on lead vocals)
     8. Tryin To Throw Your Arms Around The World
     9. Angel Of Harlem
    10. When Love Comes To Town

Disc 2:
     1. Satellite Of Love
     2. All I Want Is You
     3. Sunday Bloody Sunday
     4. Bullet The Blue Sky
     5. Running To Stand Still
     6. Where The Streets Have No Name
     7. Pride (In The Name Of Love)
     8. I Still Haven't Found What I'm Looking For (includes Stand By Me)
     9. With Or Without You
    10. Love Is Blindness
    11. Can`t Help Falling In Love

Source:
     October 7, 1992.  Birmingham, AL.  Legion Field.

Sound Quality :
     Excellent audience.  The sound is really clear.  Unfortunately, this
     means that there are one or two really clear conversations heard in the
     audience.  Aside from that, it's great.