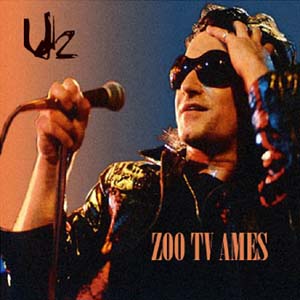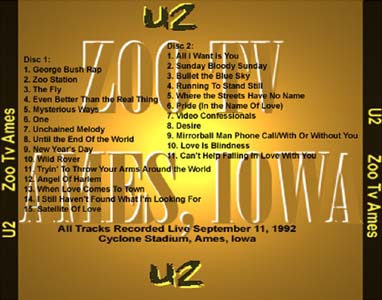 ZOO TV AMES

Disc 1: 
     1. George Bush Rap 
     2. Zoo Station 
     3. The Fly 
     4. Even Better Than the Real Thing 
     5. Mysterious Ways 
     6. One 
     7. Unchained Melody 
     8. Until the End Of the World 
     9. Until the End Of the World 
    10. New Year's Day 
    11. Wild Rover 
    12. Tryin' To Throw Your Arms Around the World 
    13. Angel Of Harlem 
    14. When Love Comes To Town 
    15. I Still Haven't Found What I'm Looking For 
    16. Satellite Of Love 

Disc 2: 
     1. All I Want Is You 
     2. Sunday Bloody Sunday 
     3. Bullet the Blue Sky 
     4. Running To Stand Still 
     5. Where the Streets Have No Name 
     6. Pride (In the Name Of Love) 
     7. Video Confessionals 
     8. Desire 
     9. Mirrorball Man Phone Call/With Or Without You 
    10. Love Is Blindness 
    11. I Can't Help Falling In Love With You 

Source:
     September 11, 1992. Ames, Iowa. Cyclone Stadium.

Sound Quality: 
     Good audience.

Comments:
     This bootleg was remastered from a DAT original.  A slight
     hiss in the background and a few pops here and there make
     it sound more like it was originally on cassette.  Regardless,
     the show is well worth acquiring.  Overall, the sound is very
     good with one noteworthy exception: a "warble" on the last three
     tracks of Disc 2 that is irritating but not unbearable.  For some
     reason, "Until the End Of the World" was split in the middle.  This
     is no big deal, however, as the transition is seamless.  Obviously
     there are higher quality bootlegs out there, but for those of you
     who enjoy collecting the hard to obtain shows like I do, this one is
     a must.